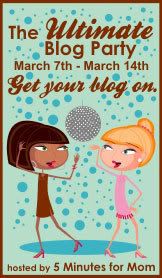 Hey, it's a party! You coming?
5 Minutes for Mom
is hosting a Blog Party, and there's
prizes
, too! If you're looking for some new blogs to read (we can always use that) and the opportunity to connect with other women bloggers, then
click on over
!
For those of you visiting the Cookie Jar for the first time, welcome! My name is Scattered Mom, for my tendency to be a tad..well...scattered and directionally challenged. I live on the coast of British Columbia, Canada where it rains for weeks, but when the sun comes out we can wear shorts in March. So much for the stereotypical Canadian with the igloo and the dog sled.
My family is a bit un-traditional. My husband is a whopping 20 years older then me, and has a daughter who is only four years my junior. Her partner, my son in law, is actually my age! We have four grand-dogs....rowdy great danes that are full of fur and drool; we love them.
Together we have a pre-teen who keeps us on our toes, between his perchance for all things science and mechanical. He's either taking something apart or conducting an experiment that I'm sure will blow up the kitchen.
Our outlook on life is very much outside the box, considering that Hubs is dyslexic, and Jake has dyspraxia (a motor coordination disorder), dysgraphia, both of them have sensory sensitivities, and are gifted. Yikes! Talk about a handful! It makes life interesting, and I often blog about it.
I work with special needs children and have a passion for baking, photography, writing, and the outdoors. Writing has always just been a natural extension of me, ever since I was just a little kid. Some of my stories have been published in Canadian Living Magazine, up for consideration for Chicken Soup for the Soul, and I've written articles for Kids Can Travel.
What will you find around here?
Well...
recipes
, for sure. I'm baking fiend. In fact I have a
whole blog devoted just to food!
You'll quickly learn I'm a chocolate and coffee addict.
Photos....
Travel tips and stories
of our multi state journeys through the USA, and day trips around BC as well.
Stuff about parenting a
kid with multiple learning issues
....
And of course, just the
every day stuff
that goes on here.
Have fun!