We're a hiking family. Every Sunday, for as long as John and I have been married, we go for a hike. It's nice to be out and about outdoors-and fall is especially my favorite time of year!
This trail has lots of boardwalks like this. In the winter the water is so high that it is almost to the top of the boardwalks, and you can always see evidence of the resident beavers chewing away on the trees.
The trail winds through the forest and widens out at this beautiful little cove. I love the smell of the ocean, and the sound of the waves hitting the rocks. Here it's pretty calm but if you venture farther up the trail it's more spectacular. We decided not to because it's a little more challenging-uphill, rocky, and we were already a little winded. We passed a woman who was
running
the entire thing.
There are lots of tide pools full of shells, crabs, and other small sea life. Kevin couldn't resist looking for some small critters to befriend. We rarely can resist checking out tide pools, must be the scuba divers in us. On this hike we saw lots of dead man-o-war jelly fish that had been left behind when the tide went out. Sometimes you see sea stars too, but not today.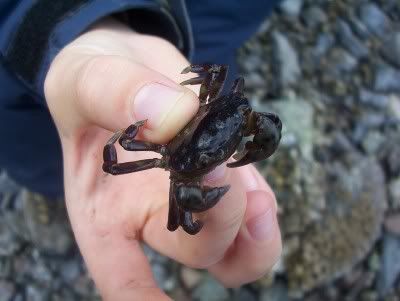 Jackpot! Just like a true coastal kid, Kevin always knows where to find a shore crab. Turn the rocks over, and off they run. This one tried to hide up his sleeve before Kevin fished it out and held it still for the camera.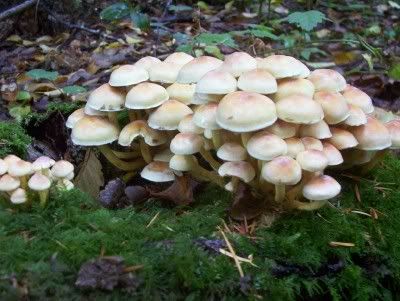 We saw mushrooms here and there too, on dead logs or peeking out from under the leaves. This colony was especially impressive! It's always fun to look at the various kinds of mushrooms and try to identify them. It was a beautiful sunny day to be out, with that little bit of nip to the air. I was surprised that not many of the leaves were turning color; in fact, things are still quite green. Must be all our rain. These sort of walks always rejuvenate me for the week ahead.