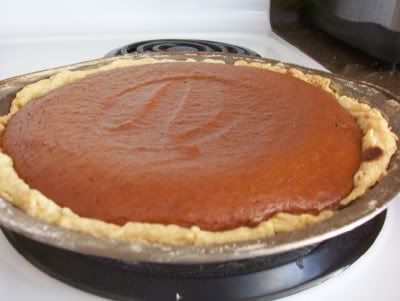 In my house it's not Thanksgiving without pumpkin pie. Okay, I know that all of you are rolling your eyes and saying, "She's
still going on about the freaking pie?!
?" So without further ado, here's the recipe! And I promise to shut up now, or at least until Christmas.
Serves 1 (well...um..that is if you don't share)
2 eggs
398 ml of canned pumpkin
1 cup of packed brown sugar
1 tsp cinnamon
1 tsp nutmeg
1/4 tsp ginger
1/4 tsp salt
3/4 cup evaporated milk
*1 unbaked pie shell (crust)
In a large bowl, combine the canned pumpkin with brown sugar, cinnamon, nutmeg, ginger, and salt. Stir until combined. Beat eggs in a seperate bowl and add to pumpkin mixture. Stir well. Add evaporated milk a gently stir until well combined. Pour into pie crust and bake at 425 F for 15 minutes, then reduce the oven heat to 350 F and bake for approximately 30-35 minutes. It is finished when a knife inserted into the center comes out clean. Cool, chill, top with real whipped cream, and enjoy with a hot cup of coffee.
*As for the pie shell, I do not make pastry from scratch. I don't buy it ready made either, I get
this stuff
which is sorta homemade, but also sorta cheating. But it's good for those of us that aren't so hot at making pastry entirely from scratch.